About Apple iPhone XS Max
Let your face be your password.

iPhone XS Max gives you Face ID. Unlock, log in, and pay using secure facial authentication on your Apple smartphone.

Faster performance. Low power usage.

Apple uses the A12 Bionic chip. With a four-core GPU, you get faster graphics performance. It has the power to put your apps to work simultaneously and seamlessly at lower power consumptions.

A beautiful canvass to look at.

Lock your eyes onto 6.5 inches of Super Retina OLED display and 458 pixels per inch.

Large storage for your apps and files.

Don't worry about your app downloads and photo collections. Get iPhone XS Max in 64 GB, 256 GB, or a whooping 512 GB of storage.
eBay has provided more information about this product above and is not affiliated with or endorsed by Apple.
Price Trends
Apple iPhone XS Max - Price New and Used
New Price*
from $869 to $975
Used Price*
from $702 to $813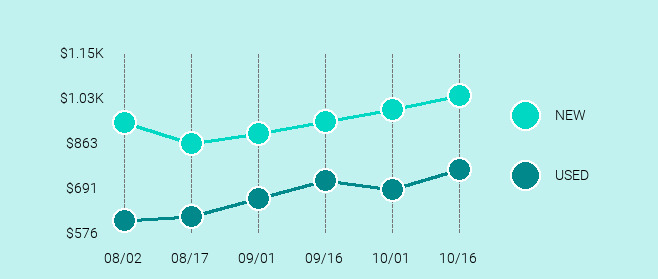 *The average sold price is calculated based on "Buy It Now" items sold within the 90 day period described above (excluding shipping and handling). Each interval represents a 15 day period. There is no guarantee that items will always be listed at a price within the provided range.
Compare Similar Models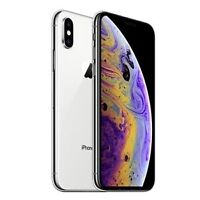 Apple iPhone XS Max
Display Resolution
1242x2688
Operating System
iOS 12, upgradeable to 12.1
Camera (Rear/Front)
12+12 dual/7 MP
Dimensions
6.2 x 3.05 x 0.3 inches
Internal Memory
64/256/512 GB
Processor
Hexa-core 2.5 GHz
Battery Capacity
Up to 25 hours 3G talk time (3174 mAh)
Apple iPhone XS

Display Resolution

1125x2436

Operating System

iOS 12, upgradeable to 12.1

Camera (Rear/Front)

12+12 dual/7 MP

Dimensions

5.65 x 2.79 x 0.3 inchess

Internal Memory

64/256/512 GB

Processor

Hexa-core 2.5 GHz

Battery Capacity

Up to 20 hours 3G talk time (2658 mAh)

Samsung Galaxy Note 9

Display Resolution

1440x2960

Operating System

Android 8.1 Oreo

Camera (Rear/Front)

12+12 dual/8 MP

Dimensions

6.37 x 3.01 x 0.35 inches

Internal Memory

128/512 GB

Processor

Octa-core 2.8 GHz

Battery Capacity

Up to 28 hours 3G talk time (4000 mAh)

Google Pixel 2 XL

Display Resolution

1440x2880

Operating System

Android 8.0 Oreo, upgradeable to 9.0 Pie

Camera (Rear/Front)

12.2/8 MP

Dimensions

6.22 x 3.02 x 0.31 inches

Processor

Octa-core 2.35 GHz

Battery Capacity

Up to 27 hours 3G talk time (3520 mAh)

OnePlus 6T

Display Resolution

1080x2340

Operating System

Android 9.0 Pie

Camera (Rear/Front)

16+20 dual/16 MP

Dimensions

6.2 x 2.94 x 0.32 inches

Internal Memory

128/256 GB

Processor

Octa-core 2.8 GHz

Battery Capacity

Up to 29 hours 3G talk time (3700 mAh)
Top 10 High ratings
Top 1 Low rating
Very Nice Phone but Some Negatives

It is easier to use than I expected and the Car Play interface is much better. The Apple Iphone 7 Plus I replaced did not allow for use of the GPS program WAZE. This interface does include WAZE. The center button of my old phone is still missed but it was a high breakage item so once you learn to use the phone without the center button it will be better. The negatives for me that keep the product from being a 5 star review is that it seems that Apple deliberately changed the camera lens position to vertical rather than horizontal. If you have a shock resistant cover for the 6, 7, or 8 plus it will not fit the camera lens opening for the 10 MAX meaning you have to buy a new cover or cut the hole larger in the old cover. The power off reset button was changed for some odd reason. Now you have to press the side button and the up volume button and then press the down volume button to reset. This was done to allow easier access to SIRI. To me these items could have been left alone.

Verified purchase: Yes

iphone XS Max

I switched from Android because apple has a better reputation for reliability. I find the iiOS to be very flexible with settings for everything you can imagine. The large size works well in my 79-year-old hands. I would have bought the even bigger 12 Pro Max if I'd had the money. There are some everyday functions that were easier on Android: returning to the home screen and forwarding a text message. Voice typing works in more apps on the iphone.Sound quality is less than I expected, especially when it's in a case. Overall, I would buy this phjone again.

Verified purchase: Yes

Fast powerful fast charging is like a dream of IPhone!

Amazing fast beautiful unlocked only 3 months old with a lot of warranty left. Apple provides free lessons. Couldn't have done it without a few classes. I wasn't sure I needed IPhone XS MAX but so glad to own it at 50% off. I bought used one and was concerned whether I can 'hack it'. It all worked out for me. Quality of pictures is a dream! Fast charger Apple OEM I bought myself. OEM Apple real leather in red case turning phone on when folio is lifted. Best of Apple and Steve would be proud.

Verified purchase: Yes

The Best iPhone Ever

The absolute best iPhone release to date. Its perfect size for grip, large screen, long battery life, and fast processing speed arguably makes it a forerunner in the smartphone market in the world. However, the price of it is fairly outrageous compared to that of its competitors like Samsung, LG, Huawei, Google, etc. Overall, it is a top-notch device that will last you for years if you take good care and maintain it.

Verified purchase: Yes

Great phone!

This phone is in perfect shape, and is a pretty big upgrade for me! I love it. I love having so much memory: 256 GB (I had 16 GB before.) The camera is GREAT, I love Portrait mode. Everything loads smoothly. Face recognition is cool.

Verified purchase: Yes

Nice iPhone

Upgrade my old iPhone as this new one with advance features. I like gold color and more memory. I like iPhone as all my family member using iPhone. It makes us contacting easier.

Verified purchase: Yes

Huge upgrade at an excellent value

Preowned iPhone XS Max in excellent condition and purchased half the price of an iPhone 11. Beautiful large screen, better camera, and wireless charging a big upgrade from my old iPhone 7 Plus.

Verified purchase: Yes

Love It

The phone was delivered on time. The phone was in perfect physical condition not a single scratch. Every thing worked well. The only downside is the battery life was at 93 percent.

Verified purchase: Yes

a Few Steps up

Love this phone... a little better than my iPhone 8 plus... but almost the same... better quality... still getting use to some of it's new features... Really enjoying it. Thanks

Verified purchase: Yes

Excellent Upgrade

Just upgraded my iPhone 6 to XS Max. It was in excellent condition and was able to use my ATT SIM card in the XS Max with no issues! Thanks!

Verified purchase: Yes